Braids are a classic hairstyle that's been around for centuries. So if you're looking to step up your hair game and add some excitement to your look, braided hairdos are the answer. Not only do they keep your locks in place all day long, but they can also be used as both formal and casual looks, depending on how you style them. From intricate French-braided ponies to soft waterfall twists—there's something for everyone. So keep reading below to discover gorgeous braided hairdo ideas perfect for any occasion!
How to create a braided updo in less than 10 minutes
Braiding your hair can be a great way to create gorgeous updos in no time. Here is an easy tutorial on how you can create a beautiful braided updo in less than 10 minutes:
First, brush your hair and separate it into three equal sections. Secure each section with an elastic band.
Next, begin French braiding the leftmost section of hair, working outward away from the face. Once you've reached the end of this section, secure it with another elastic band. Repeat this step for the other two sections of hair.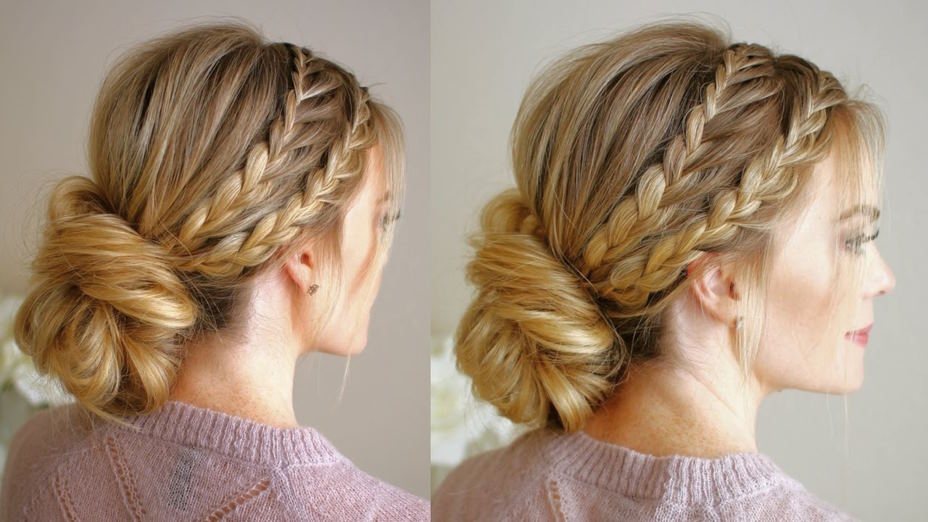 Now that all three sections are braided pull them back towards each other and tie them together at the nape of your neck using an elastic band.
Gently tug and pull at the braids to give them volume and ensure they're evenly distributed around the head. Finally, secure any loose strands of hair with bobby pins, and you're done!
With this simple tutorial, you can have a beautiful braided updo in less than 10 minutes. Enjoy your new look!
How to achieve the perfect braided halo hairstyle?
The perfect braided halo hairstyle can be achieved in five easy steps:
Start by parting the hair down the middle and then create two half-up ponytails at the crown of the head, securing them with elastics.
Take one of the halves and braid it, adding extra sections as you make a thicker braid. Once you've finished braiding, secure it with an elastic band at the end. Repeat this step on the other side of your head with the second half of your hair.
Carefully twist both braids together until they form one larger braid around your head, and secure it with another elastic band near your neck.
Take the loose ends of each braid and tuck them underneath the larger braid, crisscrossing them at the nape of your neck to form a halo shape.
Secure any remaining pieces of hair with pins and hairspray, and you're ready to go! With a few simple steps, you can easily create an elegant braided halo hairstyle that will make heads turn!
You can also add accessories such as flowers or ribbons for a fun twist on this classic look. Enjoy your new hairdo!